CATEGORY PAGE
Ham Da Cross Country 2018
Ham Da Cross Country is officially back! Ham Da, HCMC National University Urban Area is now too familiar with Mountain Bikers. Its natural challenging rocky & undulating terrain, Ham Da Cross Country promise to bring outstanding challenge to the racer and a chance to show their tough will to nail this course.
TIME – VENUE
Time: 6:00 AM – 11:00 AM – 16 December, 2018
Venue: Guest House Vietnam National University HCMC – Vietnam National University HCMC Village, Dong Hoa, Di An, Binh Duong
RACEKIT PICK-UP
Date: 9:00 AM – 5:00 PM, 15 December, 2018
Venue: Guest House Vietnam National University HCMC – Vietnam National University HCMC Village, Dong Hoa, Di An, Binh Duong
CATEGORY PAGE
Special Discount 01/09/2018 – 15/09/2018
10% for Bikes
20% for bike accessories
Saigon Cycles
44 Pham Van Nghi (S51-1 Sky Garden 2, Phu My Hung),Tan Phong ward, district 7, HCMC
Hotline: 028 54103114
CATEGORY PAGE
Den Hung cross country 2017
The tournament took place on the morning of August 20 at the National Historical-Historical Park of Ho Chi Minh City, attended by more than 200 racers of the national cycling teams movement in the country.
CATEGORY PAGE
Big Sale in August 2017
Discount 20% Fx 2 – 2017 and Fx 2 Women's 2017
FX offers a best-of-both-worlds combination of road bike speed and city bike versatility. It's the perfect fitness hybrid bike, and so much more. FX is fast, fun, comfortable, and agile enough for a multitude of uses. From fitness and commuting to errands and mellow Sunday loops, you'll find your new favorite ride on FX.
CATEGORY PAGE
New Trek Emonda breaks the 650g barrier
At 690g, Trek's last generation Emonda was one of the lightest production framesets in the world. For the 2018 model Trek has pushed the boundaries even further making a 640g (H1, vapor coat paint, 56cm) frame for the standard brake model.
Even with this superlight chassis the Emonda is still backed with Trek's lifetime warranty. The firm has added a disc brake model for the first time and increased tyre clearances on both configurations, too. The disc brake frame tips the scales at an impressive 665g (H1, vapor coat paint, 56cm) – that's lighter than the previous generation caliper bike.
So as a direct comparison between old and new:
Emonda SLR (previous) 56cm H1 fit: 690g
Emonda SLR (new) 56cm H1 fit: 640g
Emonda SLR Disc 56cm H1 fit: 665g
It's not just a matter of weight reduction, however, as Trek also claims the new Emonda is stiffer at the headtube, bottom bracket, and in the frame overall, whilst at the same time introducing a little more vertical compliance. The standard fork tips the scales at 313g, and the disc 350g.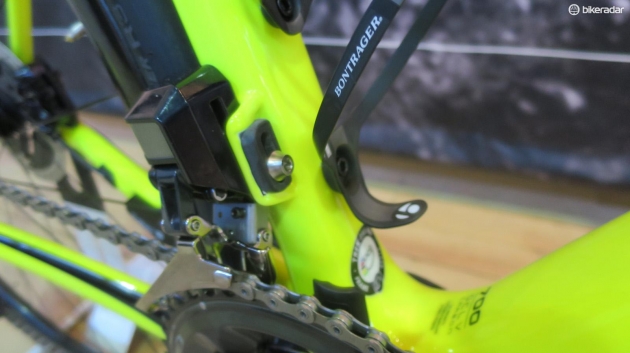 The development of the new Trek Emonda started more than three years ago, with initial studies and testing resulting in thousands of viable designs using HEEDS software (an engineering tool that allows for multi-parameters of data to informs the construction and shape of a frame). From that, more computing power in the form of FEA (finite element analysis) and plenty of further R&D into the materials and manufacturing process enabled Trek to produce the lightest frame it has ever made. Finally, the engineering and industrial design team built a series of prototypes, which were real world tested by the Trek Segafredo team.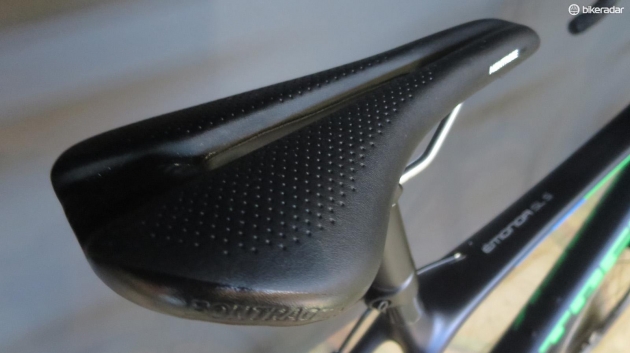 Every size and every configuration of the Emonda SLR will be available in both H1 and H2 fit for both disc and rim brake frames. So those who favour a longer and lower ride position have the H1, and riders looking for a more endurance focused shape can opt for the H2 fit models.
All of the SLRs are built with Trek's OCLV 700 carbon. Product Manager Ben Coates is quick to point out that the 2018, 700 series carbon is different today than it was two years ago – the carbon grade and fibres have changed, the laminate has evolved, and even the production methods have been revamped.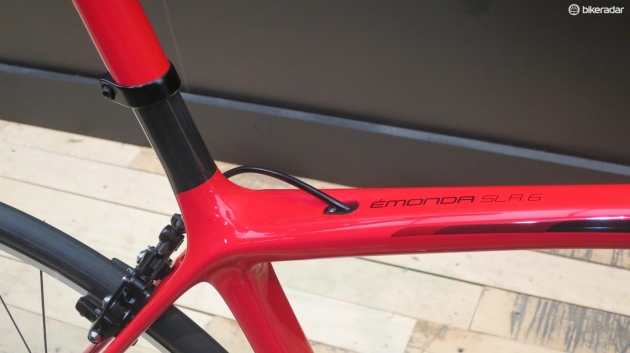 Trek has continued with pretty much all of its proprietary features like the E2 tapered headtube, their BB90 bottom bracket, the ride-tuned seat mast, and the duotrap sensor built into the chainstay.
It has added in a carbon front mech mount, all of the threads (bottle bosses, etc.) are moulded into the frame – so no drillings – and on the disc bike the aluminium dropouts are co-moulded into the frame and fork, which Trek claims is the most efficient way to integrate thru' axles.
The caliper braked Emonda is designed around direct mount brakes, with the advantage of increased tyre clearance over standard fittings. Bontrager designed a whole new direct mount version of its angular Speed Stop brakes built with hollow arms and titanium hardware. These tips the scales at just 95g.
It's cheaper too
The flagship SLR model is now the SLR9, and compared to the last generations SLR10 that retailed for $15,749/£11,000 it's a veritable bargain at £8,000.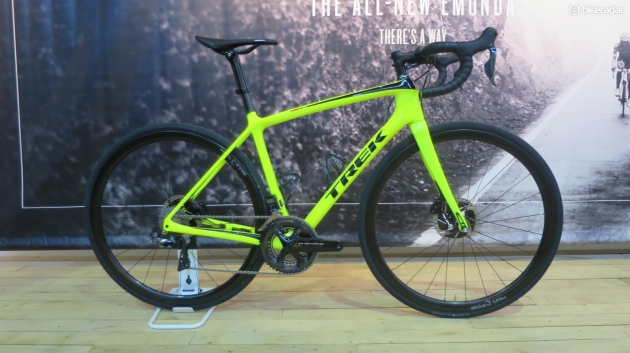 The SLR range starts with the Ultegra equipped SLR6 at $4,999.99/£4,000. For those of us who can't reach the pricing of the new SLR, then Trek has also launched an SL version built to the same design using the same molds and laden with the same tech details but using 500 series OCLV carbon.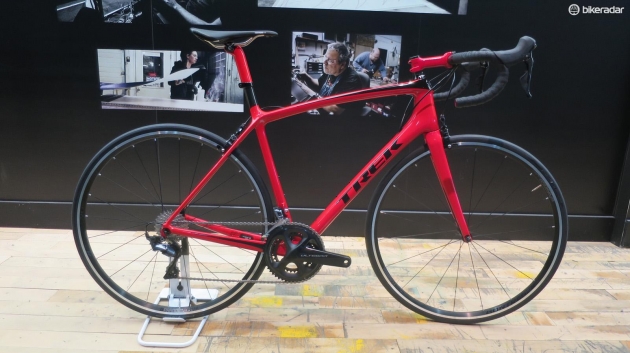 The SL's stats are: 1091g for the standard frame, 1149g for the disc, and the SL fork 313g, and the disc model 350g. Lower priced models get the 5 series fork (436g). Entry into the SL range starts at $2,000/£1,800.
2018 Trek Emonda pricing and availability
Emonda SLR 9 Dura Ace Di2; Late June; $11,000/£8,000
Emonda SLR 8 disc Dura Ace; Early July; $7,000/£5,600
Emonda SLR 8 Dura Ace; Mid July; $6,500/£5,200
Emonda SLR 6 Disc Ultegra; Late Oct; $5,500/£4,400
Emonda SLR 6 Ultegra; Early Sept; $50,00/£4,000
Emonda SLR FS H1; TBC
Emonda SLR FS H2; TBC
Emonda SL 7 Disc Ultegra Di2; Mid Oct; $5,000/£3,500
Emonda SL 7 Ultegra Di2; Mid Sept; $4,500/£3,100
Emonda SL6 disc Ultegra; Mid Oct; $2,999/£2,650
Emonda SL6 Ultegra; Mid Aug; $2,500/£2,250
Emonda SL5 105; Early July; $2,000/£1,800
Emonda SL5 WSD 105; Early July; $2,000/£1,800
Emonda ALR 6 Ultegra; Mid July; $2,300/£1,800
Emonda ALR 5 105; Mid July; $TBC/£1,350
Emonda SLR 4 Tiagra; Mid July; $TBC/1,000
Emonda ALR FS; $900/£775
CATEGORY PAGE
Special Discount 22-23/07/2017
Cycling fesival- Dinh mountain challenge -Video
CATEGORY PAGE
Cycling fesival- Dinh mountain challenge – Awards
Cycling fesival- Dinh mountain challenge -Images
Prepare :
Start:
View full images here
https://drive.google.com/drive/folders/0B8V8OCPRQIzXcjF1V2JnRG53SU0
CATEGORY PAGE
Madone Race Shop Limited available at Saigon Cycles Shop
The ultimate race bike
Madone is the ultimate fusion of power, aerodynamics, ride quality, and integration. There are no two ways about it: the first true superbike is a marvel of road bike engineering.
Every detail of Madone is engineered for unprecedented futuristic performance, ride quality, and efficiency, putting every single watt you earn toward demolishing your competition.