CATEGORY PAGE
Ham Da Cross Country 2018
Hầm Đá Cross Country đã chính thức quay trở lại. Hầm Đá, Khu đô thị Đại học Quốc gia TP.HCM là địa điểm quen thuộc với những người đam mê môn xe đạp địa hình. Với địa hình tự nhiên hiểm trở, nhiều ghềnh đá và mô đất nhấp nhô, Hầm Đá là giải đấu mang lại nhiều trải nghiệm cho các tay đua cũng như cơ hội thể hiện bản lĩnh và chinh phục thử thách.
THỜI GIAN – ĐỊA ĐIỂM
Thời gian: 6h00-11h00 ngày 16/12/2018
Địa điểm: Nhà khách ĐHQG TP. Hồ Chí Minh – Làng đại học Quốc gia TP. Hồ Chí Minh, Đông Hoà, Dĩ An, Bình Dương
THỜI GIAN NHẬN RACEKIT
Ngày nhận: 9h00-17h00 ngày 15/12/2018
Địa điểm: Nhà khách ĐHQG TP. Hồ Chí Minh – Làng đại học Quốc gia TP. Hồ Chí Minh, Đông Hoà, Dĩ An, Bình Dương
CATEGORY PAGE
Giảm giá đặc biệt 01/09/2018 – 15/09/2018
10% cho xe đạp
20% cho phụ tùng, phụ kiện xe đạp
Chương trình áp dụng từ ngày 01/09/2018 đến 15/09/2018
Tại: Công ty TNHH TM XNK DV DL XE ĐẠP SÀI GÒN
44 Phạm Văn Nghị (S51-1 Sky Garden 2, Phú Mỹ Hưng), P. Tân Phong, Quận 7
Hotline: 028 54103114
CATEGORY PAGE
Sôi động giải xe đạp địa hình 'Đền Hùng cross country 2017'
Giải diễn ra vào sáng 20/8 tại Khu Công viên Lịch sử – Văn hóa dân tộc TPHCM, với sự tham dự hơn 200 tay đua thuộc các đội đua xe đạp địa hình phong trào trong cả nước.
CATEGORY PAGE
Big Sale in August 2017
Discount 20% Fx 2 – 2017 and Fx 2 Women's 2017
FX offers a best-of-both-worlds combination of road bike speed and city bike versatility. It's the perfect fitness hybrid bike, and so much more. FX is fast, fun, comfortable, and agile enough for a multitude of uses. From fitness and commuting to errands and mellow Sunday loops, you'll find your new favorite ride on FX.
CATEGORY PAGE
New Trek Emonda breaks the 650g barrier
At 690g, Trek's last generation Emonda was one of the lightest production framesets in the world. For the 2018 model Trek has pushed the boundaries even further making a 640g (H1, vapor coat paint, 56cm) frame for the standard brake model.
Even with this superlight chassis the Emonda is still backed with Trek's lifetime warranty. The firm has added a disc brake model for the first time and increased tyre clearances on both configurations, too. The disc brake frame tips the scales at an impressive 665g (H1, vapor coat paint, 56cm) – that's lighter than the previous generation caliper bike.
So as a direct comparison between old and new:
Emonda SLR (previous) 56cm H1 fit: 690g
Emonda SLR (new) 56cm H1 fit: 640g
Emonda SLR Disc 56cm H1 fit: 665g
It's not just a matter of weight reduction, however, as Trek also claims the new Emonda is stiffer at the headtube, bottom bracket, and in the frame overall, whilst at the same time introducing a little more vertical compliance. The standard fork tips the scales at 313g, and the disc 350g.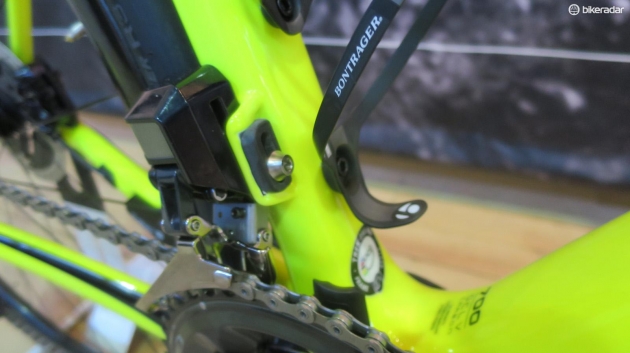 The development of the new Trek Emonda started more than three years ago, with initial studies and testing resulting in thousands of viable designs using HEEDS software (an engineering tool that allows for multi-parameters of data to informs the construction and shape of a frame). From that, more computing power in the form of FEA (finite element analysis) and plenty of further R&D into the materials and manufacturing process enabled Trek to produce the lightest frame it has ever made. Finally, the engineering and industrial design team built a series of prototypes, which were real world tested by the Trek Segafredo team.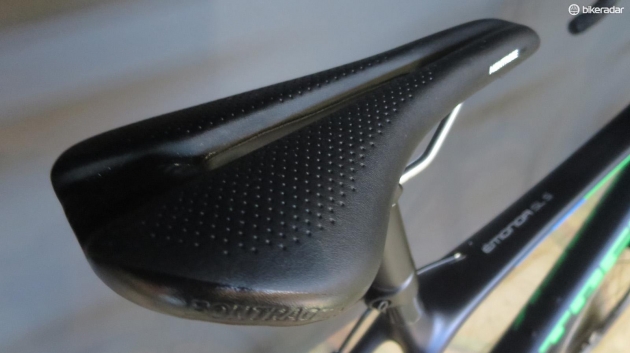 Every size and every configuration of the Emonda SLR will be available in both H1 and H2 fit for both disc and rim brake frames. So those who favour a longer and lower ride position have the H1, and riders looking for a more endurance focused shape can opt for the H2 fit models.
All of the SLRs are built with Trek's OCLV 700 carbon. Product Manager Ben Coates is quick to point out that the 2018, 700 series carbon is different today than it was two years ago – the carbon grade and fibres have changed, the laminate has evolved, and even the production methods have been revamped.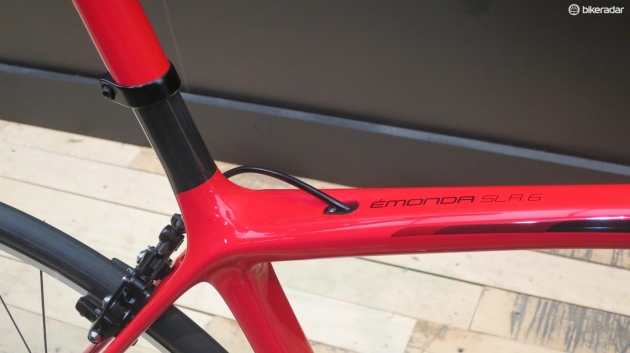 Trek has continued with pretty much all of its proprietary features like the E2 tapered headtube, their BB90 bottom bracket, the ride-tuned seat mast, and the duotrap sensor built into the chainstay.
It has added in a carbon front mech mount, all of the threads (bottle bosses, etc.) are moulded into the frame – so no drillings – and on the disc bike the aluminium dropouts are co-moulded into the frame and fork, which Trek claims is the most efficient way to integrate thru' axles.
The caliper braked Emonda is designed around direct mount brakes, with the advantage of increased tyre clearance over standard fittings. Bontrager designed a whole new direct mount version of its angular Speed Stop brakes built with hollow arms and titanium hardware. These tips the scales at just 95g.
It's cheaper too
The flagship SLR model is now the SLR9, and compared to the last generations SLR10 that retailed for $15,749/£11,000 it's a veritable bargain at £8,000.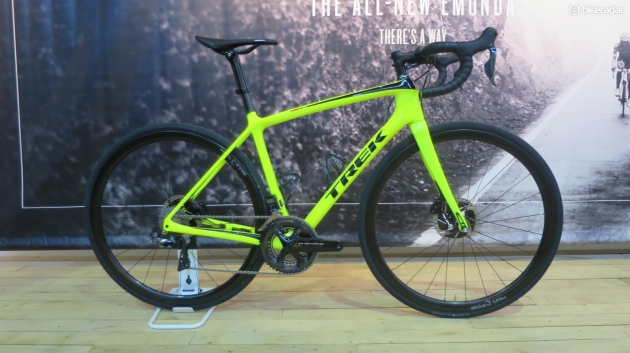 The SLR range starts with the Ultegra equipped SLR6 at $4,999.99/£4,000. For those of us who can't reach the pricing of the new SLR, then Trek has also launched an SL version built to the same design using the same molds and laden with the same tech details but using 500 series OCLV carbon.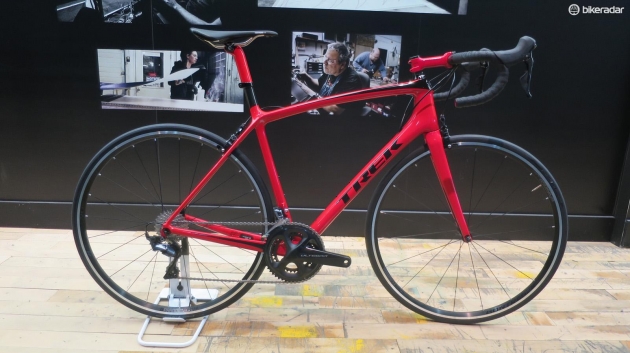 The SL's stats are: 1091g for the standard frame, 1149g for the disc, and the SL fork 313g, and the disc model 350g. Lower priced models get the 5 series fork (436g). Entry into the SL range starts at $2,000/£1,800.
2018 Trek Emonda pricing and availability
Emonda SLR 9 Dura Ace Di2; Late June; $11,000/£8,000
Emonda SLR 8 disc Dura Ace; Early July; $7,000/£5,600
Emonda SLR 8 Dura Ace; Mid July; $6,500/£5,200
Emonda SLR 6 Disc Ultegra; Late Oct; $5,500/£4,400
Emonda SLR 6 Ultegra; Early Sept; $50,00/£4,000
Emonda SLR FS H1; TBC
Emonda SLR FS H2; TBC
Emonda SL 7 Disc Ultegra Di2; Mid Oct; $5,000/£3,500
Emonda SL 7 Ultegra Di2; Mid Sept; $4,500/£3,100
Emonda SL6 disc Ultegra; Mid Oct; $2,999/£2,650
Emonda SL6 Ultegra; Mid Aug; $2,500/£2,250
Emonda SL5 105; Early July; $2,000/£1,800
Emonda SL5 WSD 105; Early July; $2,000/£1,800
Emonda ALR 6 Ultegra; Mid July; $2,300/£1,800
Emonda ALR 5 105; Mid July; $TBC/£1,350
Emonda SLR 4 Tiagra; Mid July; $TBC/1,000
Emonda ALR FS; $900/£775
CATEGORY PAGE
Khuyến mãi đặc biệt 22-23/07/2017
Cycling fesival- Dinh mountain challenge -Video
CATEGORY PAGE
Ngà hội xe đạp đường trường – Thử thách núi Dinh – Trao giải
Ngày hội xe đạp đường trường – Thử Thách Núi Dinh – Ảnh
Giai đoạn chuẩn bị từ rất sớm
Bắt đầu cuộc thi
Xem hình gốc + đầy đủ tại đây :
https://drive.google.com/drive/folders/0B8V8OCPRQIzXcjF1V2JnRG53SU0
CATEGORY PAGE
Madone Race phiên bản giới hạn có mặt tại Saigon Cycles
Chiếc xe đua hoàn hảo nhất
Madone là sự kết hợp tốt nhất của sức mạnh, khí động học, trải nghiệm lái xe. Và chắc chắn là: đây thực sự là 1 chiếc siêu xe đầu tiên, là sự kỳ diệu của kỹ thuật xe đạp đua.
Mọi chi tiết của Madone thiết kế cho hiệu suất chưa từng có , chất lượng và hiệu quả, tối ưu năng lượng của bạn để vượt qua mọi đối thủ khác trên đường đua.
Xem chi tiết tại :