The 2013 Saigon Children's Charity Cycling Adventure kicked off today for Day 1, riding from the Mekong Delta town of Tra Vinh to Can Tho. A total of 90km. (some participants will say more!!)
Leaving Tra Vinh this morning at 7:30 we made steady progress on the provincial road out of town towards the school that Saigon Children's Charity supports. It was a fantastic experience for all to meet and see the children, their smiling faces and just how happy they were.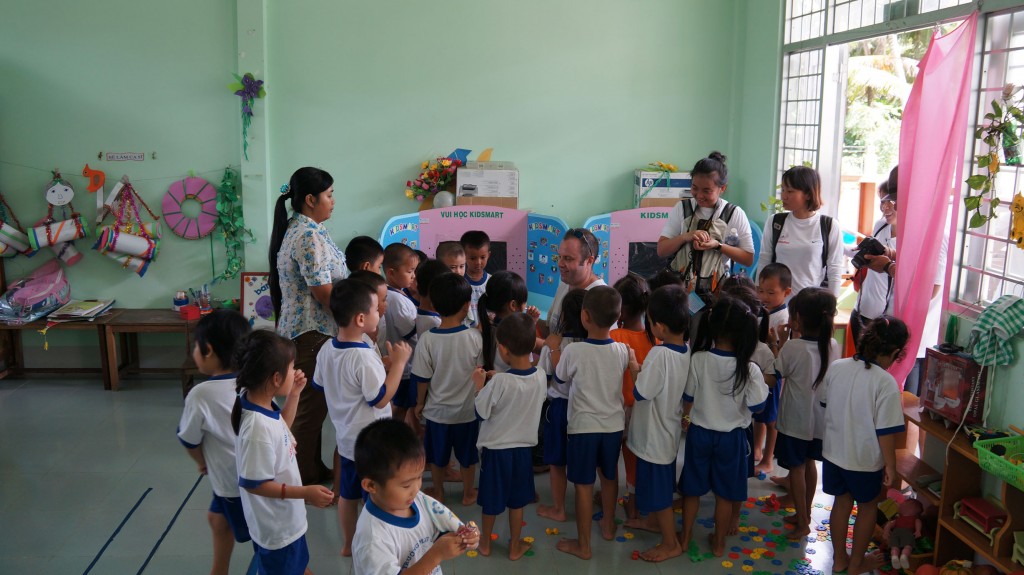 To see first hand where all the generous donations to the Charity including that of the Charity Cycling Adventure go to make a difference to these underprivileged children. SCC staff Nguyen and Hung did a great job organising some yummy treats for the children.  A big thanks to them for a successful Day 1.
After visiting the school and bidding the children farewell, we headed out along some very nice concrete paths that wound their way through small villages and the everyday life of the Delta. Some parts were a challenge with sandy stretches and surprises like where a bridge that was there 3 months ago is now not there! So the word 'Adventure' as Craig says is a great catch all phrase for the ride.
The day was topped off with a nice climb over the Cần Thơ Bridge, surprisingly the clearance under it is 39 m but it sure does feel like more when you are riding up it. We ended the ride down by the river in Can Tho, with a fabulous view of the bridge in the background and the nice afternoon breeze to cool us down after the 90km. Looking forward to a short day tomorrow of 54km!